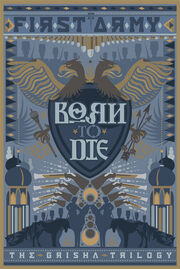 The First Army is a military regiment to help fight against the flesh eating monsters that have come from the Fold. They believe that they are better than the Grisha from the Second Army and believe that they are corrupted sorcerers.
First Army vs. Second Army
Edit
The First Army is comprised of only non-Grisha Ravkans. 
There are different jobs that someone can have when they're in the First Army and they are placed into different units. 
Cartographer

Junior Cartographer Assistant

Soldier
Tracker
Ad blocker interference detected!
Wikia is a free-to-use site that makes money from advertising. We have a modified experience for viewers using ad blockers

Wikia is not accessible if you've made further modifications. Remove the custom ad blocker rule(s) and the page will load as expected.